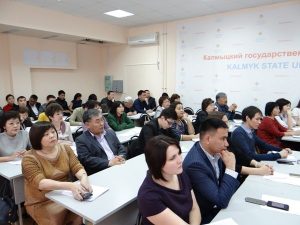 In April 2020, Kalmyk State University announced the competition for scientific projects in priority areas. Guided by the federal agenda (Strategy for the Scientific and Technological Development of Russia up to 2035), and taking into account the priorities laid down in the KalmSU Development Programme, this competition invited research projects that were conducted in the following priority areas:
Digital, intelligent production technologies, robotic systems, large data processing systems, machine learning and artificial intelligence;
Transition to highly productive and ecologically clean agriculture and aquaculture, development and implementation of systems for the management of chemical and biological plant and animal protection, storage and efficient processing of agricultural products, provision of safe, functional, and high quality food;
Countering technology-related, biogenic, socio-cultural threats, terrorism and ideological extremism, as well as cyber-threats and other threats to society, the economy and the State; dramatic increase in life expectancy.
Research and development in life sciences aimed at dramatic increase in life expectancy of physically active people.
Preserving a healthy environment andattainingecological security; monitoring of the state of the environment, assessment and forecasting of natural and man-made emergency situations. Projects of basic and applied scientific research in the following scientific fields were also submitted to the competition:
mathematics, mechanics;
• physics and astronomy;
• chemistry and sciences of materials;
• biology;
• engineering sciences;
• history, archaeology, ethnology and anthropology;
• economics
• philosophy, political science, sociology, jurisprudence, history of science and technology,  scientology;
• philology and arts;
• psychology, education issues, social problems of human health and ecology;
Thirty-two projects in different areas were submitted to the competition.
The following projects were declared the winners by the expert commission:
№
surname, name and patronymic
project title
Level of funding, rub.
1.
Shorvaeva N.V. – Candidate of Historical Sciences, Associate Professor of the Department of Foreign Languages, Intercultural Communication and Regional Studies (The Institute of Kalmyk Philology and Oriental Studies)

Dzungarian heritage and border territories of the Qing Empire and Russia in Central Asia

300 000
2.
Omakaeva E.U. – Candidate of Philological Sciences, Associate Professor of the Department of Russian as a Foreign Language and General Humanitarian Disciplines (The Faculty of Pre-University Training and Education of Foreign Citizens)
Materials on Kalmyks and Mongols in archival collections of Russia, Mongolia, Hungary and Germany: Oirat historical, Buddhist, folklore and linguistic sources
400 000
3.
Esenova T.S. – Doctor of Philological Sciences, Professor, Head of the Department of

Russian Language and General Linguistics, Russian and Foreign Literature (The Faculty of Humanities)

Vital values of the linguistic culture of Russians and Kalmyks

400 000
4.
Komandzhaev A.N. – Doctor of Historical Sciences, Professor, Head of the Department of History of Russia, Document Management  and Archival Science (The Faculty of Humanities)
Historical experience of the near- Caspian regions in countering mass epidemics and epizootics in the XIX – early XX century: the case-study of Kalmykia
400 000
5.
Dyakieva R.B. – Doctor of Pedagogical Sciences, Professor, Head of the Department of Kalmyk Literature and Journalism (The Institute of Kalmyk Philology and Oriental Studies)
Historical and typological development of mass media in the multi-ethnic space of the South of Russia (the case-study of the Republic of Kalmykia)
300 000
6.
Dorzhieva O.B. – Candidate of Economic Sciences, Associate Professor of the Department of Economic Security, Accounting and Finance
Conceptual approaches to assessing the regulatory impact on human capital development
400 000
7.
Pankin А.B. – Doctor of Pedagogical Sciences, Professor, Head of the Pedagogy Department
Psychological and pedagogical support of social and cultural adaptation of foreign students in higher education systems of multicultural regions of the southern Federal district of the Russian Federation and the Republic of Kazakhstan
400 000
8.
Moiseykina L.G. – Doctor of Biological Sciences, Professor of the Department of Zootechnics
Establishment of a breeding platform for the accelerated improvement of Kalmyk horses based on the identification of genetic markers relevant to meat productivity
 500 000